Eruption 101.3FM was launched on the 17th February 1993 broadcasting hardcore and jungle with DJ's such as Clarky, Johnny B, Nicky Blackmarket, Swift, Zinc Cuckoo and Clockwork, and MC's like RJ Vibes and Scruloose to listeners seven days a week, every week
The spirit of the station, with many of the original DJs lives on as www.eruptionradio.uk now broadcasting on DAB, the internet and social media.
Eruption 101.3 First Birthday Party
By 1994 the station had established itself throughout the rave scene, but the real test was the first birthday party held at the Four Aces Club in Dalston. There were no flyers for the event, the only publicity was generated through the station – so this first birthday party would show exactly how popular the station was. In the end the event was absolutely rammed with people eventually being turned away at the door, proving Eruption's status and celebrating a year on air in style.
Check out the video from the event here, and watch the 1st Birthday
Listen to Transit and Exorcist's set from the event
Read a "review" of the Eruption First Birthday party from Eternity magazine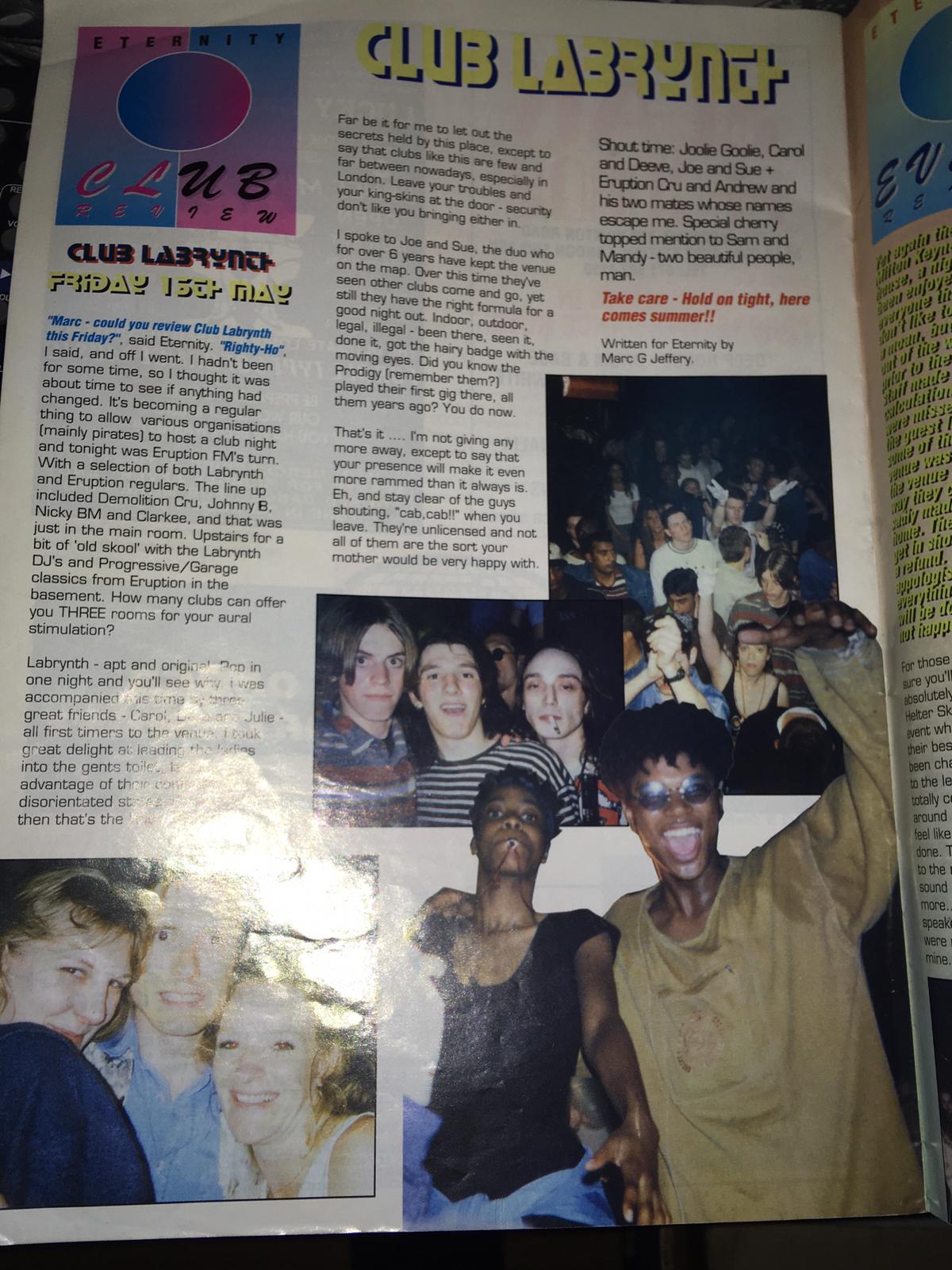 Nicky Blackmarket on Eruption 1994 –
Transit Model Exorcist Eruption 101.3 3rd July 1994
Tracklist
Back 2 Basics – Horns 4 94 (Get Busy Mix) – Back 2 Basics
A.Rayner / E.Rayner – Pronounced Percussion – Clockwork
The Anthill Mob – 1, 2, 3 (Adrian Blunt Remix) – Underdog
Shimon – The Predator – Ram
DJ Model – Ride (Drive by) – Intelligent Mind
??? chicken song
Deep Blue – The Helicopter Tune (VIP) – Animate – Renegade Selector 1 LP
The Invisible Man – The Bell Tune – Good Looking
Bukem & The Peshay – 19.5 – Good Looking
DJ Crystl – Give It Up – Lucky Spin STU
SDR & Subsonic – Watch Dis Space Pt II – Shoebox
Loads more Eruption 1994 shows here
Get a load of Skeme and RJ Vibes in the mix from 1994. Skeme is now alternate Monday's with Ranger 6-8PM on Eruption
Listen to Chris E Manic's Eruption Ad from 1994
Read more from his blog about those days here on Clockworks blog http://www.djclockwork.com/piratememories/dti-at-the-door/
and watch Clockwork talking pirate radio – Dazed Confused –
(Clockwork also got to the Semi-Final stage at DMC UK mixing Championships in 1994)
Clockwork, Cuckoo, Double R, Ozzie, and Model in the Eruption studio in 1994
Some of the jungle labels being played on Eruption in those days : Homegrown Records, Out Of Romford Records, Suburban Base Records, Ibiza Records, Jungle Splash Productions, Brain Records, Dee Jay Recordings, Dollar Records, Awesome Records, Redskin Records, Rudeboy Records, Tone Def Records, Breakthrough Records, Liquid Wax Recordings, Boogie Beat Records, Strictly Underground Records, Rugged Vinyl Records, Underdog Recordings, Stooge Productions, Sound Entity Records, Skeleton Recordings, 3rd Party Records, Outstanding Productions, Kickin' Underground Sound label, Strategy Records, Mendoza Records, Oddball Records, De Underground Records, VW Records, Back II Back label, Tom & Jerry label, Reinforced Records, White House Records, Legend Records, Code-001 Records, Rough Tone Recordings, Labello Blanco Recordings, Lucky Spin Recordings, Goops label, Section 5 label, Future Vinyl label, Hard Disk label, Active Records, Bear Necessities label, i-d Records, Quayside Records, Uphoria Records, Kikman Records, Bionic Sound label, Face 2 Face Records, Asylum Music Inc label, Brain Progression label, Goldseal Records, Kemet label, Planet Earth Records, Face Records, Micro Genetic Records, Force Ten Records, Grand Larceny label, Philly Blunt Records, Creative Wax label, Recoil Records, Intellect Recordings, Skanna label, Ruff Kut! Records, Hi-Pois'n Recordings, Armshouse Crew Records, One Nation Records, Pufa Records, 3rd Eye Records, Camden Tunes label, Metamorphosis Records Inc, Aztec Records, X Project label (Congo Natty Records), Good Looking Records, Renk Records, Ganja Records, Jekyll & Hyde Recordings, Frontline Records, Riddim Track Records, Moving Shadow label, Two On One label, Label Is Red Records, Joker Records, Liftin' Spirit Records, Trouble On Vinyl Records, V Recordings, Full Cycle Records, Droppin' Science Records, Prototype Recordings, Formation Records, Ruff Justice Records, Running Records, Production House Records, RAM Records, Splash Recordings, Juice Box Records, Logic Productions Label, IQ Records, Timeless Recordings, No U Turn Records, Back 2 Basics Recordings, Proper Talent Label, Metalheadz Label, Tearin Vinyl Records, SOUR Records (S.O.U.R.), Hardleaders Label, Aphrodite Recordings, Aladdin Label (Aphrodite Recordings), Collusion Records
Pirate Radio Eruption 101.3FM