Original piece here – https://www.theguardian.com/music/musicblog/2016/oct/18/carter-the-unstoppable-sex-machine-usm-fruitbat-jim-bob
Cult heroes: Carter USM – wagers of pop's cultural wars
Les 'Fruitbat' Carter and Jim 'Jim Bob' Morrison bought back indie's anti-establishment rage with their searing social commentary and mockery of squeaky-clean pop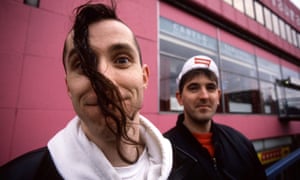 For indie-rock fans of a certain vintage, a train journey through south London feels like revisiting some sort of urban wild west. Tulse Hill, Peckham and New Cross are names that conjure up nocturnal transit-van dashes between tower blocks full of "smackheads, crackheads, pensioners, pimps … pit-bull terrorists, hammerhead loan sharks" and "Bostik boys playing chicken in the box". It takes those fans back to 1990, when gentrification was but a glint in the eye of developers and legions of Sheriff Fatmen began their gold-rush on south-of-the-river slum flats, cramming them full of drug users, domestic abusers, the starving and suicidal.
Or so you'd think from the musical dispatches of this modern Dodge City's two grebo Gary Coopers. Carter the Unstoppable Sex Machine were Jim "Jim Bob" Morrison and Les "Fruitbat" Carter, accompanied by a drum machine that they appeared to have had unlocked at a dodgy key-cutters and souped up to three times the legal speed limit. Spitting in the dilated pupils of Madchester, they hammered out barbed punk poetry of urban degradation and decay, twisting to their own sardonic ends the regal synth-pop of the Pet Shop Boys, baggy's filthy guitar funk, the indie urgency of the Wedding Present and popular culture references – Peanuts cartoons, Martini adverts, Gene Pitney, It's a Wonderful Life, Elvis Presley, The Taking of Pelham 123. They sounded like the late 70s snatching the 80s' gleaming blade from its hands and going for the throat.
Imagine Sleaford Mods with choruses and something to watch. Carter USM concerts were a riot of blinding white light, crowd-surfing mayhem and chants affectionately mocking the thyroid issues of their famed roadie and compere Jon "Fat" Beast. So it was no wonder, with the emergence of their shoestring debut album 101 Damnations and its stupendously faux-epic single Sheriff Fatman – condemning the rise of mercenary cowboy landlords with their criminal backgrounds and "more aliases than Klaus Barbie" – that they shook the indie-rock scene out of its ecstasy stupor and set a tone of snarling social commentary for the new decade that would be chorused by the likes of Primal Scream, Pulp, S*M*A*S*H, Blur and Chumbawamba. They were the unflinching report card on Thatcherism and the diagnosis of a brutalised Britain that's yet to heal.
All of which sounds as likely to appeal to the masses as a humane politician or a fully dressed fantasy drama series. Yet the critical rapture that greeted 1991's 30 Something – broadening their horizons beyond Brockley to tackle nationwide alcoholism (Anytime, Anyplace, Anywhere), war and its inherent racism (Say It With Flowers, Bloodsport for All) and blind globalist consumerism (Shopper's Paradise) – sent them into the top 10, arguably the most snarling and subversive breakthrough act since punk – or at least Frankie Goes to Hollywood.
Not bad for one squatty Sideshow Bob and one stumpy Lance Armstrong, but mock Carter USM at your peril, lest you get a thorough "Schofielding". Popularity did nothing to sugar their vitriol, so when caught in the shallow machinations of the mainstream, Carter kicked back. Literally. Booked to mime their one-off single about child molestation and murder After the Watershed (Early Learning the Hard Way) at the 1991 Smash Hits poll winner's party, Fruitbat reacted to their backing tape being cut short by kicking over the speaker stacks and flooring presenter Philip Schofield for yelling, "Blimey, that was original!" and calling him "The Fruitbat".
Les's handbagging of the face of Just for Men had an impact on popular culture that alternative music could only dream of today. It cut through indie-rock's cuddly druggie image of the age, blurred music's thick line between grimy underground menace and sparkly gnashered pop safety and repopularised indie's anti-establishment rebellion. In its wake, major televised award shows became cultural war zones; the KLF machine-gunned the Brits audience with blanks, Danbert Nobacon of Chumbawamba drenched John Prescott, Jarvis Cocker flapped his blazer seat at Michael Jackson. Carter became instant superstars, hitting No 1 with their third album, 1992 – The Love Album, and having a bona fide Christmas hit with their cover of The Impossible Dream. A barrier broke, and through the breach charged the grebos, the crusties, the T-shirt bands and the scintillating dandies of Britpop.
Musical conspiracy theorists have remained strangely silent about the indiscernible brainwashing-sound hidden on the first Suede album, which somehow robbed the wave of bands that came before them of their ability to write tunes. The Wonder Stuff, EMF, Ned's Atomic Dustbin, Jesus Jones, Senseless Things – by the end of 1993 there was barely a chartable hook between them, and Carter's fourth album Post-Historic Monsters was among the most high-profile victims. Bitter, twisted and taking sideswipes at everyone from Richey Edwards to Terence Trent D'Arby, it bristled with a malcontent firmly at odds with the sleazy hedonism of Suede or the oompah nostalgia of Blur, and set them against the mood of the age. Adapting to survive, the duo ditched their drum machine for a human drummer on fifth album Worry Bomb, and by 1996 they were a six-piece who had shifted their sound towards straight-up punk pop. But style trumped sweat, and like most early 90s alternative acts trying to reinvent themselves mid-decade, Carter were swept under by the Britpop tsunami and split up on their 10th anniversary.
Since then, Carter have been unfairly dismissed as part of the wave of early 90s T-shirt bands that acted as a placeholder between baggy and Britpop. Their musical legacy, on the surface, consists almost solely of Andrew WK, who took their frantic electronic fanfares, hollowed out the politics and social conscience and plonked in a large keg and a beer pong table. They deserve more credit, though: the roots and attitude of the new wave of new wave movement – Elastica, S*M*A*S*H, These Animal Men, et al – can be traced to Carter, and Jim Bob's shameless semi-comic mangling of TV, film and music references prefaced Noel Gallagher's identical approach to the music of the Beatles, Bowie, T Rex and the New Seekers. The 90s was the light-fingered decade, and Carter were its Fagins.
As rock's don't-scare-the-demographic media training got stricter by the year, with "I don't know enough about politics to comment" becoming the new "if anybody else likes it, that's a bonus", the hole that Carter USM left grew wider and darker – which is why their on-off "farewell" reunions have been crucial in helping to fill it. Between 2007 and their final set of shows in 2014, they played sporadic, sold-out Brixton Academy gigs every couple of years to an army of faithful, chanting: "You fat bastard" but yearning for such an informed, intelligent and outspoken crossover voice for the downtrodden in today's mainstream music scene.
Meanwhile, Sheriff Fatman slavers over his billowing buy-to-let portfolio in his Pimlico penthouse, toasting the fact that he's now the government-protected backbone of the British economy as he crams another overpriced windowless shed with 23 overseas plasterers, junior doctors and tangle-haired electro rock bands.
Carter USM getting props in the Guardian